Help Keep Food on Every Table in Guilford County
With the worsening of the food security crisis, organizations in Guilford County need your support in providing free meals and groceries to our Triad neighbors.
Today's world can be busy and stressful, and for some people putting food on the table is increasingly challenging. While many of our clients access food through the Food and Nutrition Services (FNS) program – better known as food stamps – a recent press release announced that all "emergency allotments" of FNS established in response to COVID-19 will end on March 1, 2023. This reduction in benefits will decrease an individual's daily benefit from $8.12 to $5.45.
The Triad Health Project needs help in addressing this immediate need. Learn where to donate food, money and time in Guilford County.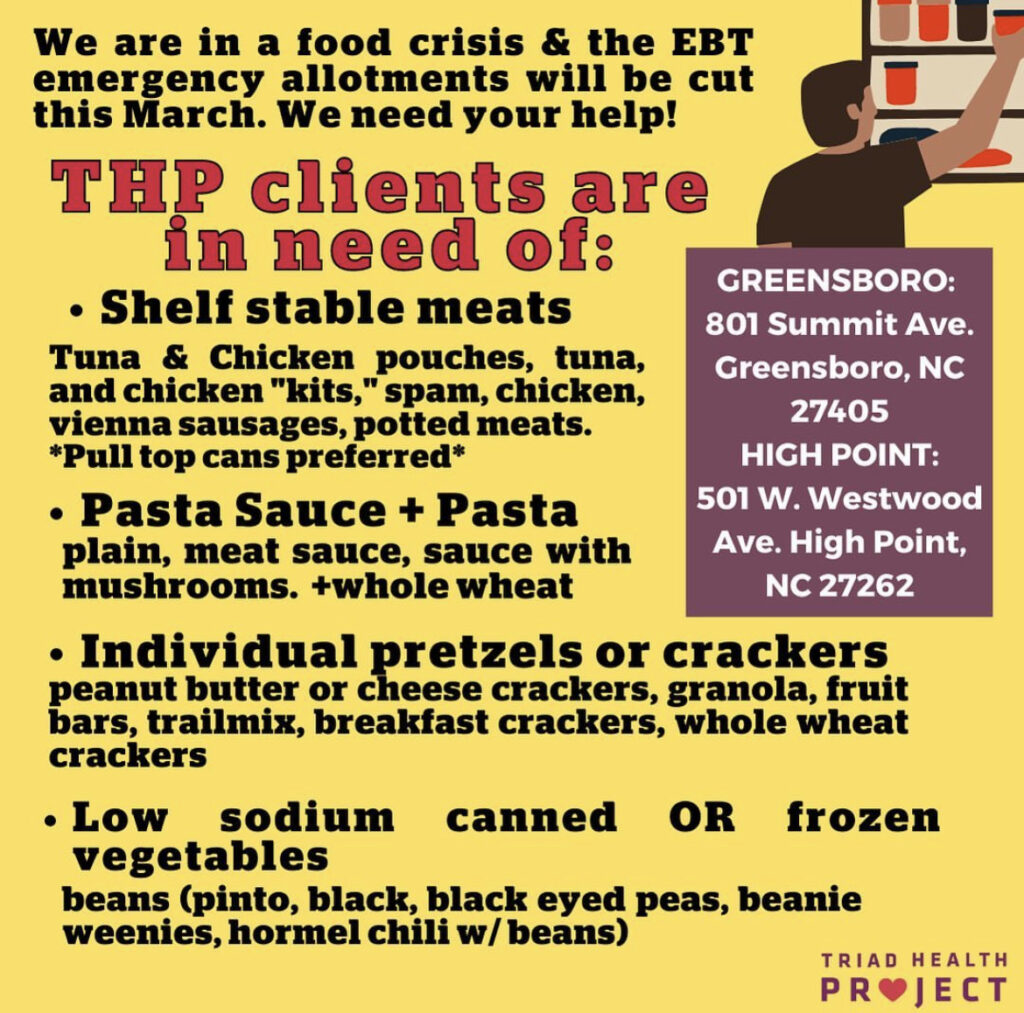 The Value in Supporting Community Food Programs
While Guilford County has a broad range of resources and creative solutions to help support neighbors who are food insecure, please consider these immediate ways you can help the programs we outline below. The Triad Health Project has a goal of supplying each client with 12 bags of groceries each month.
Host a Food Drive – Purchase and collect goods with neighbors and other organizations to donate directly to the THP Food Pantries.
Financial Support – Organizations often rely on financial donations to purchase food in bulk. $25 dollars will help us fill four bags of groceries. $75 will cover a client's groceries for a month
Purchase Gift Cards – Donate extra gift cards from local grocery stores to THP
Volunteering – Time is our most precious resource, so volunteering, even an hour each week, will make a huge difference for the programs and the people they support.
Share your Story – Voices carry. However you choose to get involved, sharing your experience with others may help inspire them to get involved, too.
---
Where to Find Food in Guilford County
The Triad Health Project offers food pantries in our offices to support our clients. We have also partnered with a few reputable organizations whose mission is to ensure that our neighbors in need can more easily access food. Learn more about the organizations below that are doing the work.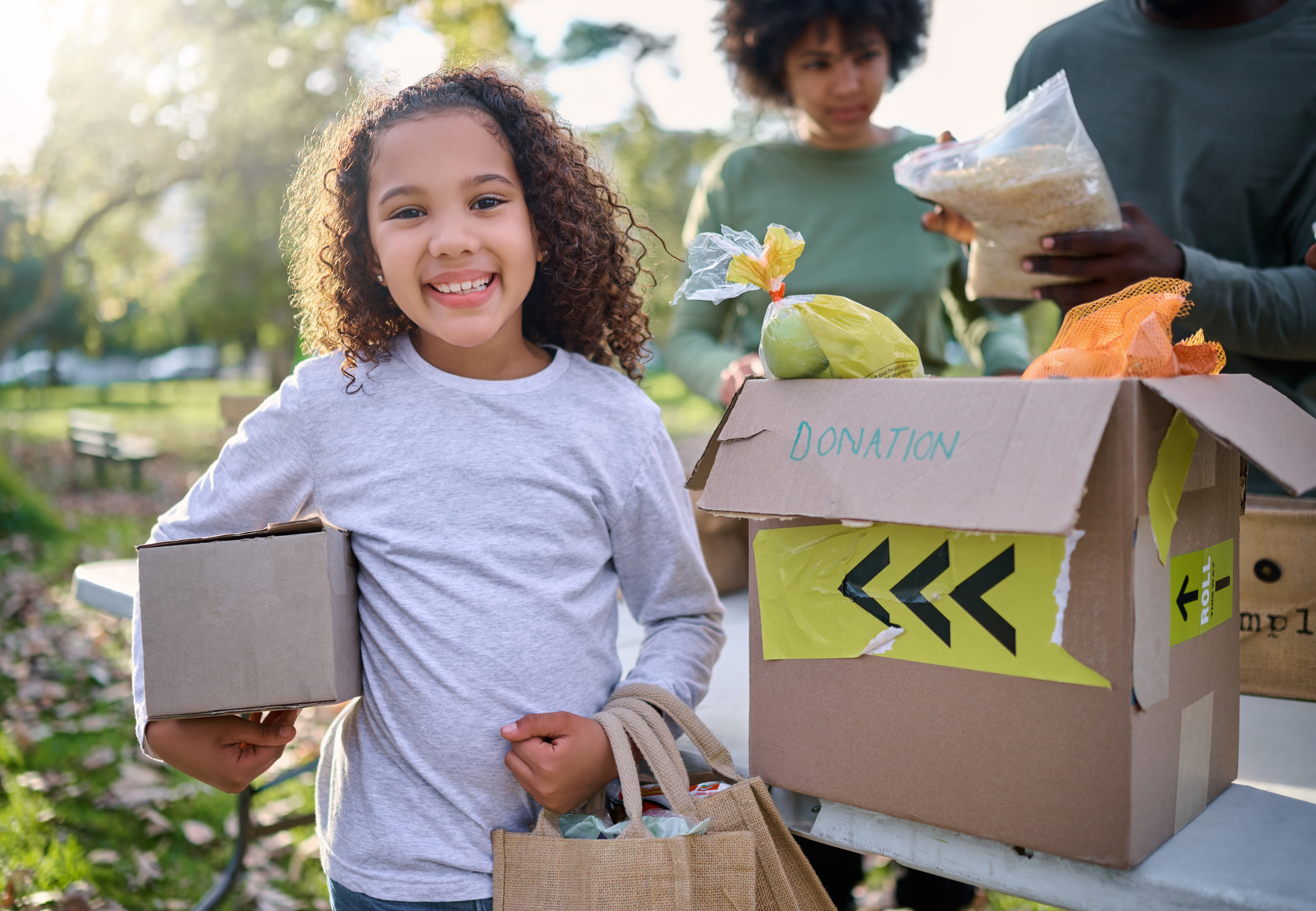 Greensboro Community Fridge
The Greensboro Community Fridge gives people in need access to healthy food and drinks without imposing restrictions based on their socioeconomic status. Their commitment is clear. to provide healthy, freshly prepared meals to everyone who needs them at no cost. It provides quality, nutritious food and drinks to those in need without surveillance, regulation, or discrimination.
Their Freedom Fridge is open to the public 24/7 and is located at 1100 Curtis Street. They are always seeking donations. Follow them on Instagram @gsocommunityfridge for up-to-date information about what is available, and what sort of products would be helpful to receive.
Out of the Garden Project
Out of the Garden Project is one of the most prominent charity organizations in the Piedmont Triad. It feeds thousands of families every month through its free meal distribution, and frequently organizes food and donation drives. Find a link to their Fresh Mobile Market calendar, but explore their site to learn more about the variety of services they provide.
Food Not Bombs
Food Not Bombs GSO offers free meals to the community, and they do so by challenging and reducing the waste created by the food industry. They serve cooked vegan meals every Friday at 4:00pm at Center City Park at 4 p.m.
GSO WHOA
Greensboro Working-Class & Houseless Organizing Alliance (GSO WHOA) distributes sandwiches, bottled water, and hygiene items every Saturday morning at Center City Park, Greensboro Bus Depot, and the Interactive Resource Center. You can find more information on their Instagram and Facebook pages.
---
The success of these food programs requires intensive energy and kindness, as well as the support and volunteer hours from neighbors like you. Keep these organizations in mind, and if you learn of any other programs in our county that should be on this list, please let us know! Bookmark this shopping list for when you go shopping!
---
Working to ensure that every member of our community has access to food and health and wellness services is a key mission of Triad Health Project. Learn more about how you can help provide and delivery our mission here.