Condom Baskets in Guilford County
As Guilford County's leader in sexual health for 34 years, Triad Health Project has partnered with five local organizations to help more people practice safer sex.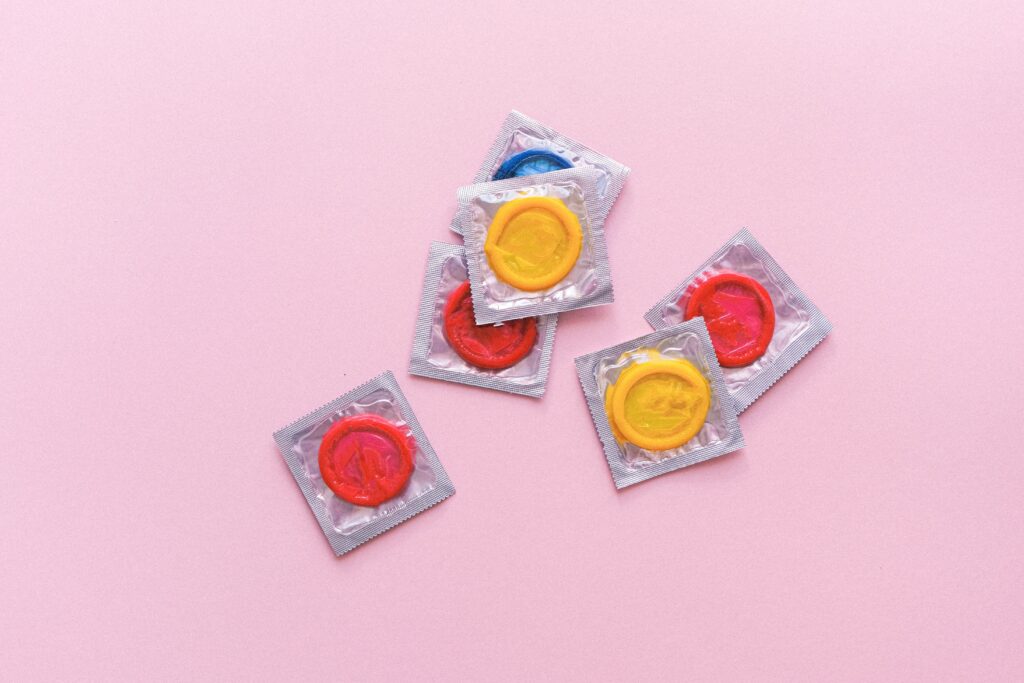 The Triad Health Project is dedicated to connecting our community to health and wellness resources that can reduce the transmission and long-term impacts of sexually transmitted infections, including HIV.
As part of that commitment, we've partnered with local Triad organizations that share our mission and actively contribute to our vision. Today, we're highlighting five Guilford County companies dedicated to helping local residents and visitors practice safer sex.
At each of these locations, you'll find free and accessible condom baskets, available without judgment to anyone who needs one. Today, we're sharing a little more about the importance of prevention, the role of condoms, and where you can find these valuable resources.
An HIV-Free Future: The Power of Prevention
Research shows that effective HIV prevention interventions are proven to reduce HIV transmissions. People who are tested for HIV and learn they are infected can respond proactively to improve their health and reduce the risk of spreading the disease to their partners.
The Centers for Disease Control and Prevention (CDC) has outlined four key strategies in its Ending the HIV Epidemic (EHE) initiative. These strategies are focused on ways to prevent new HIV infections through the following means;
Diagnosing people with HIV as early as possible
Treating people with HIV rapidly and effectively to reach viral suppression
Preventing new HIV transmissions through proven interventions (including condoms)
Responding quickly to new HIV outbreaks to provide prevention and treatment services to those who need them
The CDC's goal is to reduce new HIV infections in the United States by 75% by 2025 and 90% by 2030. While the initiative includes steps to diagnose and treat people living with HIV, it's also designed to stop HIV transmissions before they occur.
The Role of Condoms
One of the easiest and most affordable ways to prevent the spread of HIV is to practice safer sex. The consistent, proper use of condoms and other protective barriers during sexual activity can greatly reduce the chance that an HIV-positive person will spread a sexually transmitted infection to their partner.
To increase effectiveness, it's important to use a condom correctly every time you have sex. Condoms have a low failure rate and can be used for all forms of sex, but they must be in-date and from a reputable supplier. They should also be stored in a cool, dry place to maintain their efficacy.
---
Where to Find Condom Baskets in Guilford County
There are certain barriers that can prevent someone from freely accessing HIV/STI prevention and care. This may include an inability to pay for key resources, including condoms.
Along with our partners, THP believes that everyone should be able to access the products they need to practice safer sex. They also deserve to obtain those products in a judgment-free space where they can feel comfortable.
If you're in Guilford County, here are five locations where you can find fully-stocked condom baskets, available to all.
Twist Lounge
435 M, Dolley Madison Rd, Greensboro
One of Greensboro's liveliest and most popular LGBTQ bars, Twist Lounge provides drink specials, live music, trivia nights, and more. Here, you'll find a pool table, spacious dance floor, and plenty of couches that deliver a laid-back vibe.
It's open Wednesday through Saturday, 5:00 p.m. to 2:00 a.m. and Sunday from 4:00 p.m. to 2:00 a.m. Closed Monday and Tuesday.
Westerwood Tavern
508 Guilford Ave, Greensboro
Located in downtown Greensboro's Westerwood neighborhood, Westerwood Tavern offers craft beer and cocktails, along with live music, pool, and special events. Established for more than 60 years, it was revamped in 2010 and quickly became known as one of the most diverse bars in Greensboro.
It's open Monday through Sunday, 4:00 p.m. to 2:00 a.m.
Guilford College: Every Campus a Refuge Office
5800 West Friendly Avenue, Greensboro
The Every Campus a Refuge program was founded in 2015 at Guilford College. This is a non-profit program that connects colleges and universities around the world with resources that help them host refugees on campus grounds and assist them in resettlement.
Guilford College office hours are Monday through Friday, 8:00 a.m. to 5:00 p.m. The office is closed on the weekends.
Stone and Steel Spa for Him
702 W Main St. Suite B, Jamestown
Stone and Steel Spa for Him provides premium foot and hand care to men across the Triad. The spa also provides facials, therapeutic massages, back exfoliation, and other services.
It's open Tuesday through Thursday, 6:00 p.m. to 10:00 p.m., Saturday from 10:00 a.m. to 6:00 p.m., and Sunday from 12:00 p.m. to 8:00 p.m. Closed Friday and Monday.
Ahava Collective
501 S Mendenhall St, Greensboro
Ahava Collective is one of the leading yoga and meditation studios in Greensboro. Located inside the Church of the Covenant Presbyterian, it offers a range of community classes in an inclusive, diverse, and equitable environment. Classes and special workshops are offered throughout the week, with the full schedule available here.
---
Your Local Partner in Sexual Health and STI Prevention
Triad Health Project is on a mission to end the impact of HIV. Yet, we can't do it alone. We are grateful to all of our community partners, including the five organizations listed above.
We encourage you to explore each of these locations and take advantage of the free condom baskets you'll find there. While you visit, learn more about each company and consider supporting them with your patronage if you are able to do so. These are groups that support THP and share our values of inclusivity and acceptance, as well as our community spirit.
---
To learn more about THP and why we do what we do, visit us online. You'll find access to news and resources that will help you take ownership of your sexual health. You can also discover ways to get involved and add your voice to the conversation.
As part of our services, we also offer free, confidential STI testing. Schedule your test online today and together we can take a step toward a healthier, brighter tomorrow.