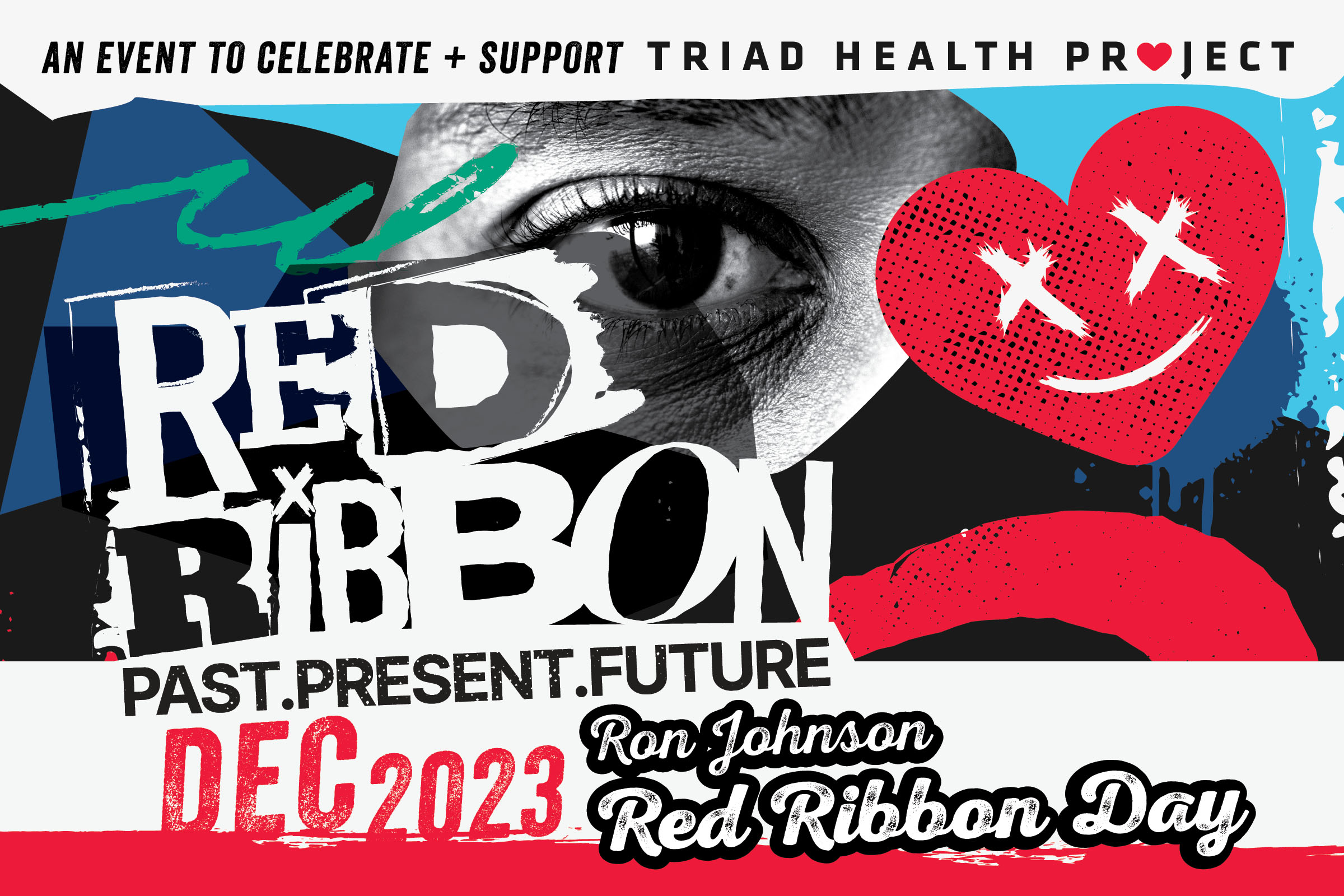 Triad Health Project invites you to join us as we highlight more than 30 years of advocacy with our annual Ron Johnson Red Ribbon events.
This year we are honoring our past with our Red Ribbon Rave, promising our future with our Red Ribbon March, and adapting to our present through the generous support of our community in recognition of the incredible support of Ron Johnson and World AIDS Day on December 1.
Want to create your very own Red Ribbon fundraising page, set a personal goal, and share with all of your friends and family?
It's easy! Click the link below, and select the "Create my own fundraising page" button on the righthand side of the page, beneath the scrolling list of current donors.
Our day of awareness, activism & advocacy!
You won't want to miss this opportunity to show support for the vital work of Triad Health Project. We have a fundraising goal of $200K. Can you help us get there?
Hear more about how THP joins with our communities for a future free from HIV!
Frequently Asked Questions (FAQs)
What is Ron Johnson Red Ribbon Day, and why is it so important right now?
Red Ribbon is a yearly fundraising and advocacy event Triad Health Project puts together to celebrate and continue our organization's work. It comes from the great tradition of AIDS Walks that have been happening in the U.S. since the first one in Los Angeles in 1985.
Our Executive Director, Adriana Adams, often calls our attention to the consistently "unprecedented" times we're facing– the crises we are seeing in housing, in funding, in food insecurity. We see opposition to our cause, our people, our community at every turn. The struggle to house, to feed, and to fund this work coupled with the fight for basic human dignity and rights has become such a part of our daily work that it no longer feels "unprecedented" or "new" or "urgent". It is our every day. It is our reality.
Who is Ron Johnson?
Ron Johnson is a long-time supporter of Triad Health Project's important work in the community. By naming the walk after Ron we are honoring those who make our work possible.
Learn more about Ron in our recent blog post and video interview!
What is the Fundraising Goal?
Our fundraising goal is $200,000! Can you help us get closer to our goal? (link to donation page)
How can I donate?
Using our online donation page is the most convenient way to donate. You can also mail us a check using the address below! If you'd like to donate in-person at our Red Ribbon Rave, we will have a variety of opportunities and methods for you to do so!
Triad Health Project
Attn: Development
PO Box 5716
Greensboro, NC 27435
What do I wear?
For the Red Ribbon Rave, we encourage you to come as your most beautifully authentic self. Feel like channeling your most electric 90s rave fashion moments? Bring 'em on! For the parade, we ask that those registering to walk with us wear the official Red Ribbon 2023 t-shirt. You can register to walk with us, and order your t-shirt using our '2023 Red Ribbon Holiday Parade Walk Registration' form. You can then pick these up between 7-9pm on Friday December 1st and Chemistry Nightclub, and at the parade.
When and Where will Red Ribbon Day be this year?
Our Red Ribbon Day festivities will be taking place in two parts this year.
On Friday, December 1st, 2023, we will be hosting our Red Ribbon Rave at Chemistry Nightclub. For our "early birds", we invite you to join us for the cocktail hour from 7-9pm, with a 8pm drag show. For our night owls, stick around for a true rave, with a fabulous DJ, and 10pm & 12:30am drag shows.
On Saturday, December 2nd, 2023, we will be walking as a part of Downtown Greensboro's Annual Holiday Parade. We will be sharing our story with a float, and a walking group made up of volunteers, clients, and staff! Interested in walking with us? Register here!
How much does it cost to participate?
To attend the Red Ribbon Rave on December 1st, you will simply pay a small cover charge at the door. If you'd like to register to walk with Triad Health Project in the Downtown Greensboro Holiday Parade, registration is $25, to cover the cost of your t-shirt. You can register to walk with us, here! If you are looking to attend the Downtown Greensboro Holiday Parade, that is free!
Is Red Ribbon Day Family-Friendly?
For our Red Ribbon Rave, attendees must be 18 years of age or older. As for the annual Holiday Parade – all are welcome to come out and line the streets!
Will there be Food at RRD?
Chemistry Nightclub offers a fabulous food truck that will be open for the duration of our Red Ribbon Rave. For the Holiday Parade, Downtown Greensboro is full of wonderful options for food and drinks before, during, and after the parade.
What can I do for Triad Health Project if I cannot make it to this year's RRD?
If you can't make it to Red Ribbon Day this year but you want to support our work you can:
Donate to our fundraiser here
Use the link above to also create a fundraising page and share with your social circles
Invite others you know to RRD and share our social media posts about it
Sign up to volunteer at THP in the future
Organize a Food Drive for our clients experiencing food insecurity
There's so much we can do together!
Share your time at events, in our office, or at Higher Ground and connect to the community.
Join the walk and reserve your limited edition 2023 RRD T-Shirt, so you can show your support all year long