Starting 2021 With Prevention + Wellness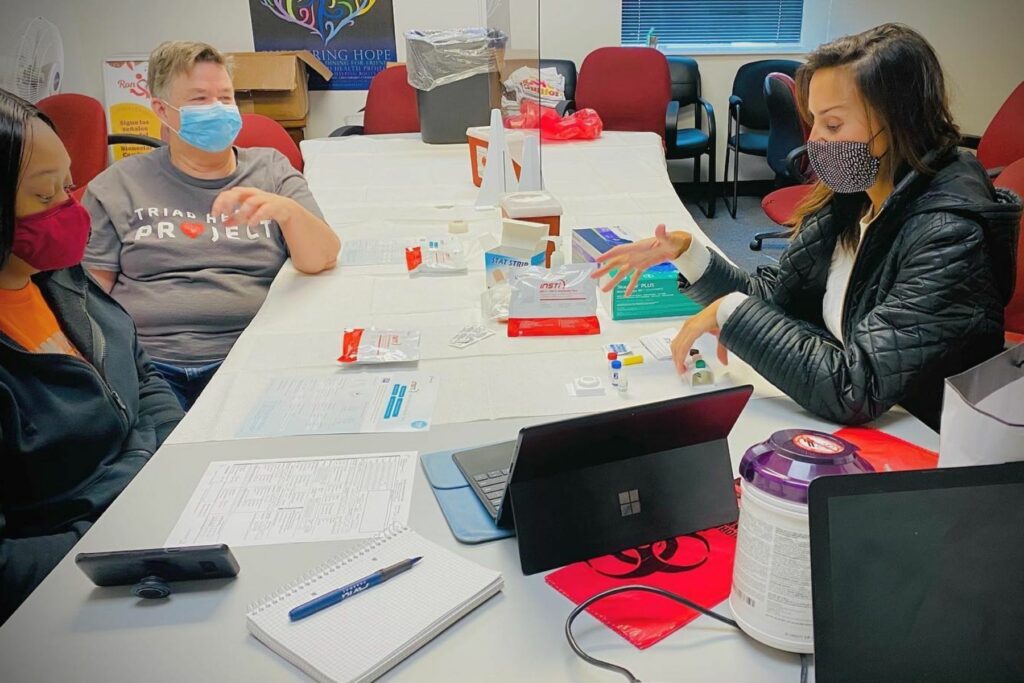 When the pandemic first forced closures in March of 2020, Triad Health Project knew we had to immediately shut down one of the key Prevention services we provide to the community– HIV/STI testing. It became clear through calls knocks on the door that community need was still at an all-time high.
Through creativity, sacrifice, and support from our partnerships, our Team devised an appointment-only plan that allowed us to re-open by August of 2020 with Covid-19 protocols, keeping staff and clients safe. This January alone we tested 48 individuals for HIV/STI's and HEP C.
Not only has the staff been busy providing testing services to the community, the Prevention and Wellness arm of Triad Health Project's work has also undergone some changes in the New Year. Our Prevention Team has recently been trained in rapid HIV, Syphilis and HEP C testing. Though we will always prefer to use a blood draw for these tests, the rapid testing adds another tool to our tool belt to use as we aim toward a Future Free from HIV. We have also begin a new informational initiative called Prevention Connection, sharing educational info about Prevention with the community. You can check it out via THP's Facebook and Instagram.
The Prevention Team has also undergone a structural change as THP looks to shift our focus towards holistic measures and outreach. Prevention and Wellness will now be overseen by a Wellness and Outreach Manager and a Prevention and Outreach Manager. These two positions will work hand in hand to connect to the community in which Triad Health Project operates. The Prevention and Wellness Team will build relationships in the community to provide testing, promote safer sex practices, and communicate how to reduce harm. By building relationships and meeting with groups of all sizes (both in person and via Zoom!) we can begin to reduce the stigma that surrounds HIV and other STIs. A community of wellness and support can become a reality in Guilford County.
One of our vital community partnerships in this work is our relationship with GCSTOP (Guilford County Solution to the Opioid Problem). Our continued partnership with GCSTOP is one way we have explored intersectionality in our work. By providing space in our parking lot for GCSTOP to set up a needle exchange, we can provide HIV, STI and HEP C testing to their clients. This is an important partnership for both agencies, but most importantly it is an important partnership for the folks in our community.
There are many more exciting changes to come in the future for Prevention and Wellness, including the addition of pregnancy testing to our provided services in the coming months. Be sure to stay tuned as we update you in the coming months via the blog and social media!