The True Spirit of the Season
A few years ago, 28 to be exact, Melody Hennessee, a reporter at the High Point Enterprise adopted a tradition she never knew would continue to this day. The "Triad Health Project Kids Christmas Project," as they call it, began as a $5 interoffice gift exchange that the newspaper's staff would eventually decide to make a charitable donation instead of gifts for one another. By 1999 the program formed into a full on commitment serving the children of nearly 100 Triad Health Project (THP) clients. This selfless program included organizing, adopting, and purchasing gifts for families in need during the holiday season, along with sharing holiday cheer and refreshments during THP's annual Christmas party.
As Melody began promoting the THP Kids Christmas Project she gradually became aware of the challenges that THP clients face and their struggle to meet basic needs like food, shelter, clothing and transportation; not to mention the endless doctor appointments and medications to remember to take each day. She expressed the understanding that HIV takes a toll not only financially but physically and emotionally. Melody understood that this leaves very little time, money, and energy to shop for gifts during the holiday.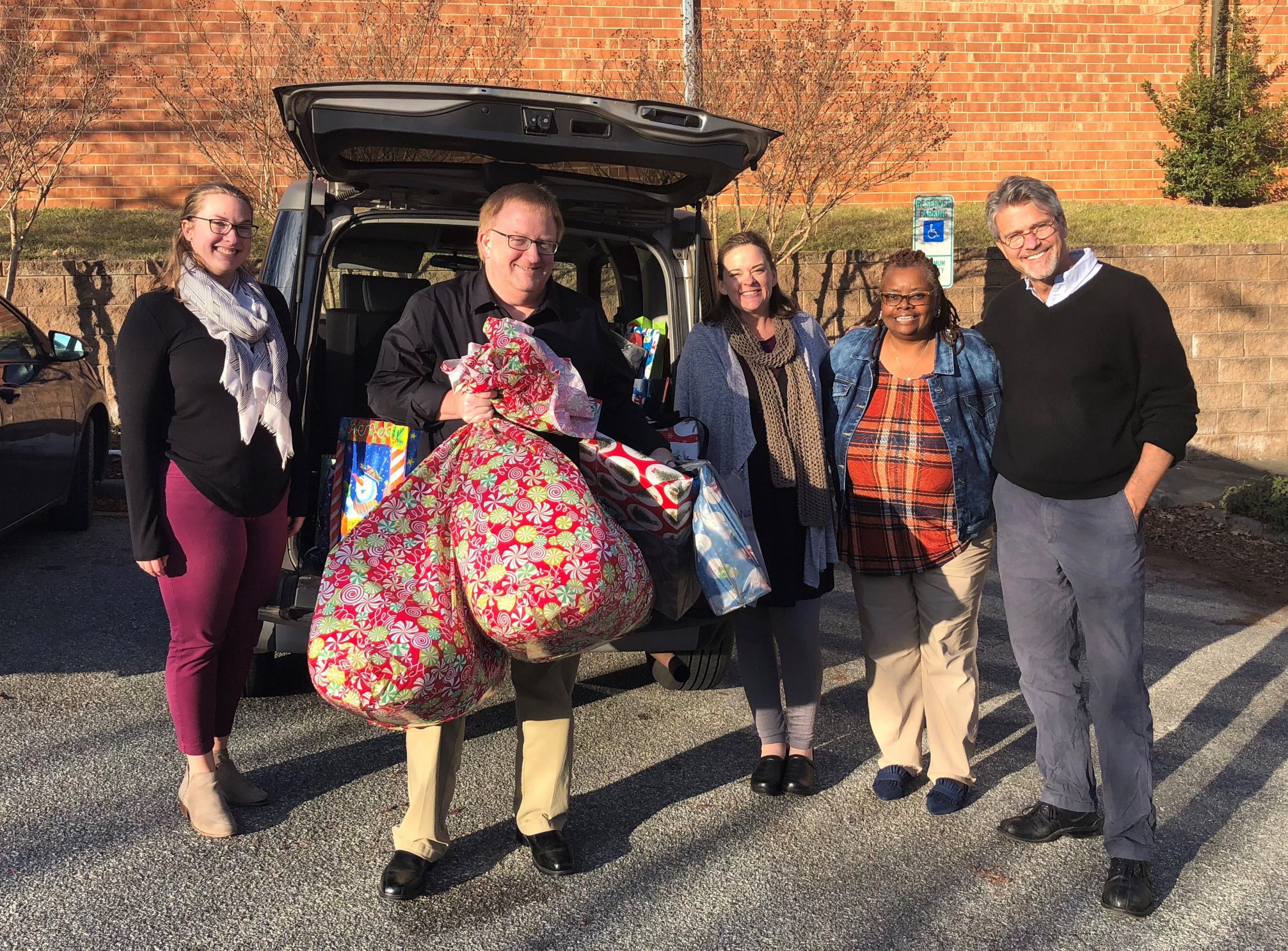 Melody began her work by requesting sponsors who could donate $20 for each child. She hung flyers on every door and bulletin board in the office at the High Point Enterprise to engage her co-workers in participating in this program. With each $20 gift, Melody could cover one child and at the time of her commitment to this project she had 96 children to shop for! Melody became creative in her approach to engage everyone in the sharing spirit. She purchased a tree and added the children's wish lists as ornaments resembling Christmas cards in the shape of snowflakes, Santa, and reindeer for her co-workers to choose and purchase items.
As with any project, nervousness crept in as Melody saw several decorative Christmas cards remaining on the tree. She tried to remain calm as she reflected on the words of THP's former High Point Director Sharon Lipscomb, who remarked, "Anything they receive will be appreciated." Melody decided to take her commitment to the next level by sending emails, posting more flyers, and even putting notes in each employee paycheck envelope to encourage her co-workers to participate. It was important to her to share the mission and importance behind the THP Kids Christmas Project to all 275 employees.
With Christmas only two weeks away, Melody still had 10 remaining children left, all teenagers. Melody remarks that these are always the last children to be chosen/adopted. Melody's co-worker, Jimmy Tomlin, a columnist at the Enterprise, sent an email to some friends and within days enough money rolled in to cover the children and pay for a real life Santa to attend the Christmas party as the families picked up their gifts.
Melody left The High Point Enterprise in 2001. But the tradition has remained. Mr. Tomlin accepted the responsibility and was likely chosen due to his efforts in supporting those 10 teenagers so many years ago. For the last 18 years, Jimmy Tomlin has continued the tradition, not without the same nervousness Melody had each year, but with the same heart for our organization during the holiday season. Jimmy humbly states, "This is my 18th year heading the project, but I get a lot of support from co-workers as well. It's always a blessing to be a part of it and I always breathe a sigh of relief when I get that phone call (that all the gifts are accounted for).
Mr. Tomlin has shown true kindness and dedication to the children of Triad Health Project and we are so grateful to have the High Point Enterprise as supporters in our High Point community. At the heart of our mission, Triad Health Project seeks to support those in need, and Jimmy, Melody, and many others in our community do just that! For this, we are truly grateful.
– by Meagan Patillo, THP High Point Director