From the Executive Director
Capturing a true snapshot of the work of a health and justice agency depends a great deal upon where you point your camera. One of the hallmarks of THP over the years has been its commitment to fix its lens into places the world may wish to ignore. We intend to continue this tradition and sharpen its focus, shining our light where humanitarian crises hide.
It has become painfully clear that there are intense and blatant linkages and crossroads between virtually every social crisis we face as a community and HIV. Where poverty, food shortage, racial inequity, poor education and discriminatory access to care are allowed to persist, HIV thrives. And where HIV thrives, stigma and prejudice and hatred continue to mount. This is not only a nefarious virus of the bloodstream; it is a virus of our very culture.
Here, we turn the lens inward as well. You will find a fierce devotion to our cause, a financial footing growing stronger as our story reaches new ears, tangible and life-giving impact from westernmost High Point to Greensboro's eastern edge and beyond. We see a community moving from the relative comfort and illusion of insularity to the radical energy of sweeping inclusivity.
Much in our county and much beyond any fanfare hinges upon the work of THP. Much of the work of THP hinges upon people who find tolerating curable injustice and disease to be a disease unto itself.
Thank you all for another year of miracle and hope. The world needs more of both, and our intention for the upcoming year is to offer just that. With you.
Blessings,


Mark Cassity
Executive Director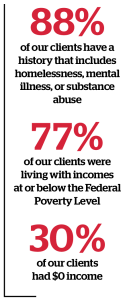 Triad Health Project is Guilford County's leader in sexual health. We grew out of a shared vision between fourteen friends in 1986—the year before the first antiretroviral drug was approved by the FDA to treat HIV. As the crisis was still emerging, we rolled up our sleeves and began the vital, lifegiving work of destigmatization, facilitating access to care and prevention.
Now, more than three decades later, we, as a community, have crossed a new threshold. 
We know that HIV is a virus that has always thrived in the margins. 
Through bold commitment to care and justice, we are connecting communities—in all their diversity—to quality health and wellness services, reducing the transmission and long-term impacts of all sexually transmitted infections. 
We also promote inclusive, comprehensive sexual health education, champion our friends and neighbors affected by transmission, and advocate for equity in prevention and treatment access for a future free from HIV.
Every week, we offer culturally competent education and compassionate, confidential testing.
We also provide support, treatment adherence counseling, and therapeutic groups to individuals and families who are learning to cope with HIV.
701
participants in health education sessions
1,395
unduplicated people tested for HIV and other STIs
1,711
STI tests completed
27,460+
condoms distributed in the community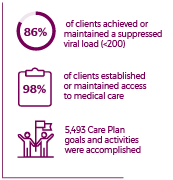 Through our client services, our staff offers intensive, individualized case management. This year, we served 530 people, who ranged from 18 to 81 years old. We understand that HIV thrives where there is inequitable access to resources, and we are taking an intersectional approach to ending this epidemic in our community.
Because HIV destigmatization, prevention, treatment, and ending structural inequality go hand in hand, we provide referrals to local housing providers, legal services, social service organizations, and mental health services.
3,635
bags of groceries provided to clients
13,560
cans of liquid nutritional supplement provided
2,355
referrals to resources and services
1,147
instances of treatment adherence counseling
Ending the HIV epidemic is a decision we make as a community.  This inspires partnership with the faith, civic, and business communities through Higher Ground, a communal retreat and resource center for those living with or impacted by HIV. 
The Higher Ground day center is a safe, welcoming, and inclusive space of acceptance and hope for our clients and their families. 
Five days a week (at the least), we welcome our diverse community to connect with peers, volunteers, counselors, and health professionals in Higher Ground's compassionate, communal setting. 
226
support groups attended
168
volunteer-led therapeutic + recreational activities
The end of the HIV epidemic is possible. Together, as a community of friends and neighbors, we have mobilized our expertise, our resources, and our motivation for change. Today, we're setting a goal. Over the course of the next ten years, we will end the HIV epidemic in Guilford County.

Triad Health Project is a community that joins together to support, to heal, and to celebrate life. Your attention and consideration make a future free from HIV possible with every action you take.
Here's what you can do right now.
Share your time at events, in our office, or at Higher Ground and connect to the community.
Raise your voice when people living with HIV are excluded or insulted—your words have power!